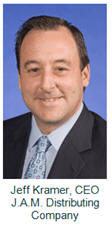 J.A.M. Distributing Company to Acquire Jones Oil and High Tech Equipment
JobbersWorld Q&A with Jeff Kramer
June 11, 2014


J.A.M. Distributing Company, a portfolio company of Ridgemont Equity Partners, today announced that a newly formed affiliate has signed a definitive agreement to acquire substantially all of the assets of Jones Oil, Inc. and J.B. Jones Enterprises, Inc. d/b/a High-Tech Equipment.
In an effort to better understand what this means for J.A.M., Jones Oil and High Tech, JobbersWorld went to the source; Jeff Kramer, CEO of J.A.M. Distributing. Here is what he had to say:

What was it about Jones Oil and High Tech that got you interested in this acquisition opportunity?
Both Jones and High Tech are well-known for their integrity, quality, safety, and high levels of customer service. We have the utmost respect for the businesses, which have strong and longstanding customer relationships, as well as for JB Jones who has been the owner and CEO for over 40 years and built a pair of incredible businesses. Since Ridgemont's acquisition of J.A.M. in December 2012, we have continued to seek out high quality growth opportunities, and the acquisition of Jones and High Tech fits perfectly with that goal.
What changes will come as a result of this acquisition?
We remain committed to the longstanding values of quality, safety, integrity, and strong customer service of our current business and of Jones Oil and High Tech. The team intends to leverage the best practices and know-how of both J.A.M. and Jones/High Tech to deliver increasing levels of customer satisfaction.
What benefits will the customer see?
J.A.M. continues to invest in technological and process improvements to better serve our customers. This acquisition will only further improve the service levels for our customer base and allow us to deliver additional value to the companies we serve. That will be the top priority for us.
What does this acquisition do for J.A.M.?
The acquisition will further J.A.M.'s capabilities and continue to push us along in our quest to be 'The Premier Partner for Smart Lubricant and Fuel Solutions.' Ridgemont's ownership – particularly, their financial expertise and strategy at the board of directors level – has really allowed us to progress at this pace and set high goals for our business in the future.
What's next for J.A.M.?
We plan to take a very calculated approach to the integration of Jones Oil and High Tech; but, at the same time, we continue to look for other high quality growth opportunities – both organic and through acquisition – in the markets we serve.